Is your grass dying, but you don't know why? Use our lawn disease identification information to figure out what's wrong with your lawn.
Identification is the first step towards healing your diseased grass. Use our convenient yard disease identification guide to find our what's wrong with your lawn.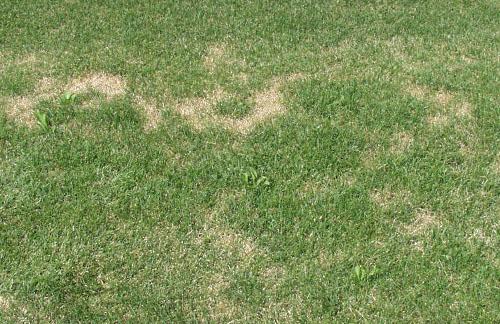 Summer Patch usually appears as circular or irregularly shaped patches that measure form several inches to several feet in width. The patches are bronzish-yellow to straw colored and can coalesce as they increase in size. The leaves of the plant turn yellow to brown from the tip to the base.
The roots turn moderate to dark brown. You will usually see Summer Patch if the temperature is over 85 degrees during the day and over 70 degrees at night. This disease is commonly found in areas with high soil temperature, soil compaction, poor drainage, and the lawn is mowed at a low height.
Fairy Ring symptoms vary with different circumstances. Typically, this disease has outer rings that are either dark green or brown in color. The shape and size of the rings vary depending on the species.
Activity on the turf ceases when the individual rings come in contact with each other. This disease typically occurs in the summer but can also occur on cool season turfgrass in mild winter climates.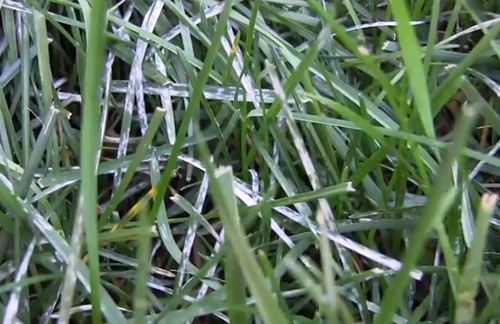 The disease first appears on the leaves as individual tufts of fine, white mycelium. The tufts enlarge and coalesce, causing the leaves to have a grayish-white or powdery appearance.
Severely infected turf turns yellow, then tan and brown in color. Stresses turf that is severely infected can die. Severely infected turf, especially in shaded areas, can become thinned.
Pythium blight appears suddenly during hot, humid weather. It is common in the wettest areas of the turf and in the surface drainage pattern. This disease causes greasy, brown circular spots that are initially about one to two inches in diameter that rapidly enlarge in size. The spots are water soaked and darker colored early in the morning.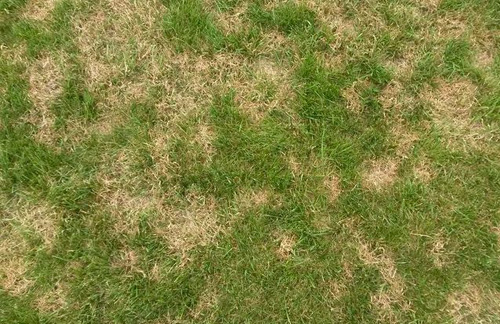 This fungal disease typically causes rings or patches of blighted turfgrass that measure five inches to more than 10 feet in diameter. It also causes leaf spots and thin, brown borders around the diseased patches that frequently appear in the early morning. After the leaves die in the infected area, new leaves can emerge from the surviving crowns.
Brown patch usually occurs in high relative humidity as well as temperatures of over 85 degrees during the day and over 60 degrees at night. This disease can be quite active at cool temperatures on warm season grasses in the spring and fall.
Dollar Spot causes sunken, circular patches that measure up to two inches in diameter on golf greens and several inches on higher mown turf. The patches turn from brown to straw colored and may eventually increase in size forming irregularly shaped areas. Infected leaves may display small lesions that turn from yellow to straw colored with a reddish-brown border. This disease can extend the full width of the leaf. Dollar Spot is favored by temperatures between 59 degrees to 86 degrees and continuously high humidity. This disease is often found in climats with warm days, cool nights and intense dews.
The symptoms of Gray Snow Mold are evident after snow melts. It causes light brown, gray and straw colored patches that measure less than 10 inches in diameter.
The patches can increase to several feet. Snow cover is usually necessary for this disease to cause damage. Gray snow mold is most severe when snow cover lasts more than 90 days.
Red thread causes patches that are reddish-brown in color and one to four inches in diameter up to two feet. It is a gelatinous mass of pink mycelium with water soaked leaves that thrives in temperatures between 40 degrees to 80 degrees. It also occurs in areas that experience more than 10 days of foliar wetness.
Rust diseases cause light yellow flecks initially on the leaf blades and sheaths. The flecks enlarge, elongate and turn yellow in color. The infected areas rise above the epidermis and then rupture, releasing spores that are a yellowish-orange to reddish-brown in color.
The leaf blade turns yellow starting at the tip and progressing to the base. The turf may appear thin as the individual shoots die. Rust diseases typically occur in the early spring through fall, depending on the location of the turf. These particular rusts favor moist, low light areas.